---
Reparator kožnih sedišta visabella usa kit
Šifra oglasa:3037328
---
Cena: 17 €
Godina:

2020

Lokacija:

Beograd

Datum:

23.11.2021.
---
Osnovni podaci
Tip delova: Auto oprema
Kategorija: Presvlake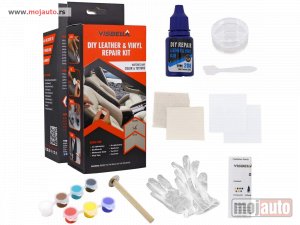 Podaci o prodavcu
Auto plac:

DARK SHOP

Adresa

Zaplanjska 41a

Telefon

011/3981-683

Telefon

063/251-821

Web

www.darkshop.rs

Radno vreme

9-20 h radni dani,9-19 subotom
Da biste dobili najbolje uslove kod prodavca, kažite da ste oglas videli na
MojAuto.rs
Komentar oglašivaca
Visabella reparator sedišata od kože i vinila. cena:1990 rsd set. Može se koristiti za: Kožna sedišta ,table,sedišta motocikla,krovove kabrio od vinila,nameštaj,torbe,jakne,cipele. Više objašnjenja u linku ispod: https://youtu.be/9NKEWNiKp7c VisbellaDIY Leather &Vinyl Repair Kit is a very handy and easy-to-use kit that helps you repair any cracks, cuts, burns and tears on leather and vinyl material surfaces. A variety of colors and grain papers designed to match surrounding materials are included to help make repairs blend in with the surrounding vinyl or leather. A color matching guide helps determine the correct color to match the damaged surface. With complete step-by-step instructions that come included in the kit, you can achieve a professional looking result without the expensive cost of hiring a professional. This repair kit is good for repairing any burn holes, rips, and tears on leather or vinyl material surfaces such as: Automotive upholstery & trim, furniture, leather jackets and clothing, sofas, couches, convertible tops, dashboards, boat seats, upholstery, luggage, apparel, and carpets. Benefits & features Make permanent, perfectly blended repairs Matches all popular colors and grains Does not distort during curing process Saves cost on expensive repair or replacement Wide range of applications including automotive and boating upholstery, furniture, luggage, jackets, carpets and more Works on Car Upholstery, Dashboards, Motorcycle Seats, Vinyl Tops, RV Upholstery, Briefcases, Furniture, Footwear.
---